I joined TRIBE in the beginning of June as a Business Development Intern. I was offered this position as it coincides with a larger program I was accepted in, called the Center for Hispanic Policy, Research and Development in New Jersey, USA.
I came across TRIBE while reading through all the available internship opportunities the Center for Hispanic Policy, Research and Development offered. As I researched TRIBE, I gathered that their main goal is to teach entrepreneurship and digital literacy to secondary school students in Liberia, which caught my attention. I understand how important those skills are for the 21st century, and this would be the perfect opportunity for me to learn more about how those skills can be taught and applied in an education enterprise.
It was a little nerve-wracking for me to start this new journey because I had never done anything like this before; especially since I'm majoring in accounting, which is different to the role I have at TRIBE. This would be my first internship experience, as well as my first experience working with a non-profit organization, and I knew TRIBE would offer me an amazing opportunity and an irreplaceable experience.
Right before my virtual interview with the TRIBE team members, I remembered how nervous I felt but also how much I wanted my confidence to come through. It was exciting to know that I would potentially be working on building programs for these students from the ground up, especially since I've never had an opportunity to experience or learn about it before. Once the initial interview was over, I felt so relieved. A few weeks later, I was so happy because I heard that I was going to be a part of the TRIBE team.
During my time here at TRIBE, I have broadened my knowledge on the development of programs, conducting research on edtech ventures, and learning how to write grant proposals. The research I've conducted on different programs educational organizations have provided for their students has been very informative. It has been a great lesson, not only for me but also for TRIBE because we get to learn what was successful and what failed for these programs.
Other research I've conducted on edtech ventures can also help us in this new age of technology to bring new technological programs to our students.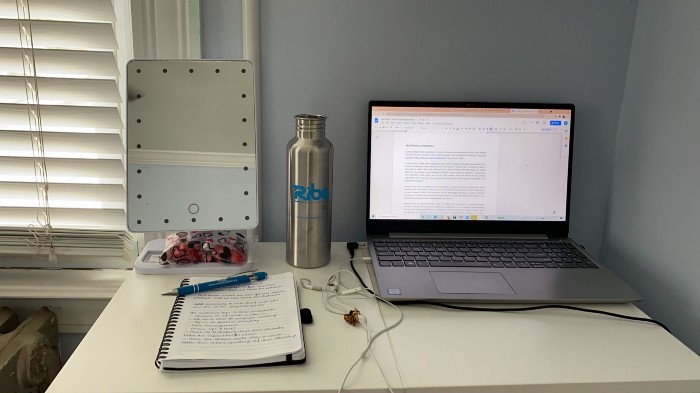 My internship at TRIBE has all been virtual. Covid-19 has changed the world in numerous ways, and for me it caused my education and internship to be virtual. I don't think this change was a bad thing because I probably would not have had the opportunity to work here if it weren't virtual.
I had to turn my makeup table in my bedroom into my desk once everything became virtual. Since I was already used to my classes being through zoom, I wasn't too nervous about how my work would be with TRIBE. I was actually very curious how it would be. Once the meetings began it was interesting because during class professors just spoke and a few students would respond, however during our weekly meetings all the team members are expected to speak and participate and I enjoy the environment it creates because I feel like my voice, just like everyone else's, matters.
If I could describe, in one word, the feeling that everyone at TRIBE brings into work everyday it's passion. I've never met a group of people more passionate about their work than I have here with TRIBE team members. I'm grateful for this experience because all their passion and dedication has rubbed off on me. By experiencing their tenacity I am encouraged to push through my final year of university. The last three years of university have been difficult because I was never sure that I picked the right major, however, I've reminded myself how much I loved accounting in the beginning and TRIBE has taught me that although there may be challenges to push through, it will all be worth it in the end.
Coming into this I was nervous, especially about my performance in the role. However, in the end, I've learned that with enough passion and dedication, the work one does turns into a passion project, and at TRIBE our passion project will powerfully impact these students to lead great lives.